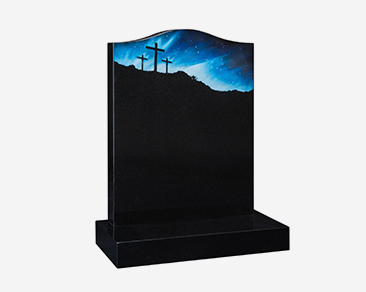 Cemetery Memorials
Our team of highly skilled artists and craftsmen can personalise your memorial with designs and carvings that reflect the person being commemorated. For unique headstones, we can create a bespoke piece of art. The materials/ colours, designs and ornamentation of all the memorials listed below can be interchangeable – speak to Alex directly by calling 01773 602 187, or email him at alexcope@talktalk.net
Headstone Shapes & Edging
We have various headstone shapes and edging options available. Traditional and popular shapes include: Ogee, Half-Ogee, Peon, Oval, Square, Round and Half-Round, but contemporary shapes are available too. For personalisation, polished edges can be enhanced.
CNC Carving & Lettering
Traditional masonry skills can be enhanced with modern technology. We use computer-aided design (CAD) to produce precise carvings. Our 3D carvings can be left as natural stone, or painted by our team. We can accurately reproduce V-cut lettering (deep profile inscription) that is more impactful than traditional, sand-blasted letters.
Showing 1–12 of 62 results