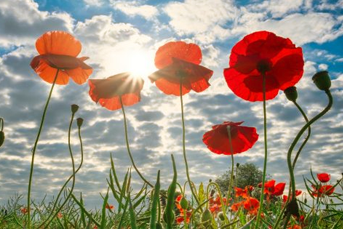 Throughout the United Kingdom, and other countries that make up The Commonwealth, Remembrance Day is celebrated on the 11th November. It is a day that marks the anniversary of the end of fighting in World War I. Here in the UK, we observe it by assembling for two minutes of silence beginning at 11am. Poppies have also become the symbol of the day, and wreaths of them are laid out at war memorials as well as artificial ones worn on clothing.
Here are some other nations across the world that celebrate their version of Remembrance, or Memorial Day.
DODENHERDENKING – THE NETHERLANDS
In The Netherlands, Dodenherdenking (which means 'remembrance of the dead') is held every year on the 4th May. This day celebrates all civilians and military members who died in conflicts since World War II. It is observed throughout the country with a two minutes silence at 8pm and even public transportation is halted.
ARMISTICE DAY – BELGIUM
In Belgium, they also celebrate Armistice Day on the 11th November to mark the anniversary of the end of World War I. The country uses this day to remember all the fallen soldiers.
VOLKSTRAUERTAG – GERMANY
This day is celebrated on whichever Sunday falls closest to the 16th November and honours the dead. There was a brief period, when Germany was under Nazi rule, that this day was used for propaganda and turned from a day of remembrance to a day of hero worship.
VICTORY DAY – RUSSIA
This is a holiday in Russia that commemorates the surrender of Nazi Germany in 1945. It is observed by military parades, mass processions, gatherings at monuments and religious commemorations.
YOM HAZIKARON – ISRAEL
This is a memorial day observed in Israel for the fallen soldiers of the wars of Israel and for victims of actions of terrorism. The day opens with a one-minute siren the preceding evening at 8pm. During which, everyone commemorates by standing in silence and showing respect. By law all places of entertainment close on the eve of Yom Hazikaron. The names and ranks of every fallen soldier who died for Israel are displayed in a 24-hour broadcast on television.
QINGMING FESTIVAL (清明节) – CHINA
Qingming Festival, known as 'Tomb-Sweeping Day' in English, falls on the first day of the fifth solar term in the traditional Chinese calendar. This is a day where families visit the tombs of their ancestors. Whilst visiting they make ritual offerings, pray and clean the gravesites. Offerings include eating traditional dishes and the burning of joss sticks and joss paper.
Qingming Festival has been observed in China for over 2,500 years and became a public holiday in mainland China in 2008. This festival is also observed in several other surrounding countries, including Taiwan, Hong Kong, Macau, Malaysia, Singapore, Indonesia and Thailand.
DÍA DE MUERTOS – MEXICO
Día de Muertos, known as 'day of the dead' in English, is celebrated throughout Mexico and involves the gathering of friends and family to pray for and remember friends or family members who have died and help support their spiritual journey. In Mexican culture, death is viewed as a natural part of the human cycle. Therefore, it is now seen as a day of sadness, but one of celebration instead as their deceased loved ones awaken and celebrate with them. Día de Muertos has been observed in Mexico for as long as 2,500 – 3,000 years.
ANZAC DAY – AUSTRALIA & NEW ZEALAND
Anzac Day (April 25th) is the anniversary of the first major military action fought by Australian and New Zealand forces during World War I. It begins with commemorative services, followed by marches of former military personnel.
MEMORIAL DAY – UNITED STATES OF AMERICA
Memorial Day, previously known as 'Decoration Day', in America is a federal holiday dedicated to honouring and mourning the military personnel who have died while serving in the United States armed forces.